Our first day at sea was on Monday, February 11. Some of us were up early for breakfast or for exercising or just exploring the ship. The rest of us just slept in and ordered room service for breakfast. To be sure everyone had a good time, the ship offered spa tours, gambling lessons, and presented shopping and shore tour highlights for the ports that we would visit. A wide array of shore tours was available for us to choose from. Professionals and our own photo opportunities were available all over the ship.
In addition to the swimming pools and sunning activities that were available, there were work out rooms and other things to do. No I didn't go on the rock climbing wall nor did I do any in-line skating.
But one thing I planned was a Scavenger Hunt. Shortly after everyone had lunch we gathered at John Debbie's suite where we were divided into teams. I had made a list of pretty easily obtainable items. Members of each team went off to find their items. It was great fun.
On this day, each stateroom received notice that they would be receiving an onboard credit of $50.00. Fun surprises like this are possible when you're in a group.
After the Scavenger Hunt those who wanted to attend all had tickets to see the Ice Show. It was spectacular, especially when you realize the performers were doing acrobatics on a roiling ship.
Dinner this night was our first formal one, so several of us got together for formal photos. Everyone looked great when we went into the dining room.
Steve and Martie had friends who had signed up separately on this cruise. They joined us at dinner
Carol and Mo gave me this lovely cardinal pin. Cardinals are our high school mascots.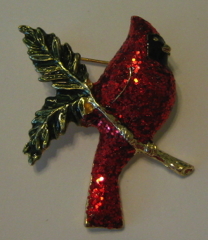 | | |
| --- | --- |
| Tuestay, February 12, 2013 | At Sea |
Sleep late, go to breakfast was the agenda for several on Tuesday, February 12. We just "happened" to end up in the Windjammer together. I spent some time visiting with John out on his balcony and wandered around a bit.
For lunch, Sherry and I went to Johnny Rocket's where we had a hamburger and milkshake and watched the waiters dance.
During this day, each stateroom received a bottle of champagne.
But, the big thing was for this evening. It's Mardi Gras! Some of our group made reservations to go to the Mystery Dinner rather than meet at our regular dining room tables. The rest of us had a blast donning masks and beads.
Joe came prepared.
Katie and I put on twin masks. She kept saying the mask was slipping with her glasses on underneath and she couldn't find the nose spot, but we persevered and went to the dining room. There, we discovered no one else celebrating Mardi Gras besides our group. That's another good reason to travel in a group. If you're conspicuous, there's a reason for it.
It wasn't until we arrived at our table that Katie realized her mask was on upside down. We had a good laugh at her expense.
I distributed my own version of bingo card and some Valentine pencils to help people get to know each other. We're still trying to figure out who signed the going commando spot!