One of the treats of going to Galveston is stopping at Shipley's Donuts. That's one of the few times I get to eat donuts. Since we arrived just in time for dinner the previous evening, the plan was to get donuts for breakfast before boarding the ship. But you know what happens to plans. John, Debbie, Katie, Lynda, and I just sat around talking and waiting until Bruce and Page arrived from her mother's house in Houston.
When Bruce and Page appeared, it was time to board the ship.
The luggage was dropped off with no problems, but boarding the Navigator took an agonizingly long time due to at least 2 things. The day before, a fog warning possibility in Galveston had many guests arriving later than normal to board, creating heavier traffic in the terminal than normal. Second, with all the heavy traffic, only 2 security carry-on baggage checks were open for at least an hour around noon.
Once onboard, the plan for the group was to meet for lunch in the Windjammer and then go to our cabins in hopes of finding our luggage had been delivered.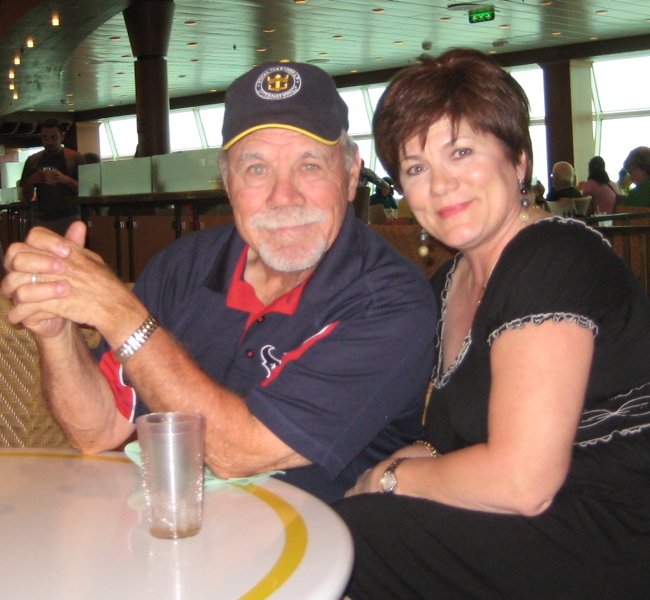 Right after the safety drill, the ship pulled away from the dock and we said goodbye to Galveston for the week. I spent a little time putting tags on the doors so group members could easily find each other and themselves.
I was one of the lucky people whose reserved cabin was upgraded during Navigator of the Seas January dry dock. My inside cabin was the recipient of a virtual balcony. What a great idea that was!
Part of the sacrifice of having the virtual balcony was losing the small sofa and small coffee-type table. Those two items were replaced with a single padded chair. It was difficult to find a place for room service to set the tray when they brought it.
It was great being able to tell when it was day or night from an inside cabin. I could also see if it was sunny or rainy and when we were docked, I got a wonderful view of our location. The changing view made a good backdrop for photos. Page was the first one to come up with this idea. The virtual balcony was across from a large mirror, so it made the room look much larger.
My room also seemed larger because this was my first cruise without a roommate. I was looking forward to dropping the temperature as cold as I wanted it and not worry about freezing my cabinmate. Unfortunately, with the air conditioner turned to the coldest setting, the room was still very warm, even after I requested a server person to check it out. I later learned it was too warm over much of the ship, and it was only March. I hope they fix it before our hot Texas summer weather.
Apparently Katie and Lynda had no problems settling in. They went all fancy decorating their door.
Some of the evening before and after dinner was unpacking the luggage, if we were lucky enough to get it early.
My cabin steward this trip was Adella Beliss.
We had some trouble coordinating everyone for dinner arrangements, but eventually worked things out. Our first evening, we ended up at a table where Oliver from Mumbai was the waiter. He was really good. All the food was excellent. After dinner we checked out the welcome aboard entertainment in the Metropolis Theater.